Covid rules: What has changed?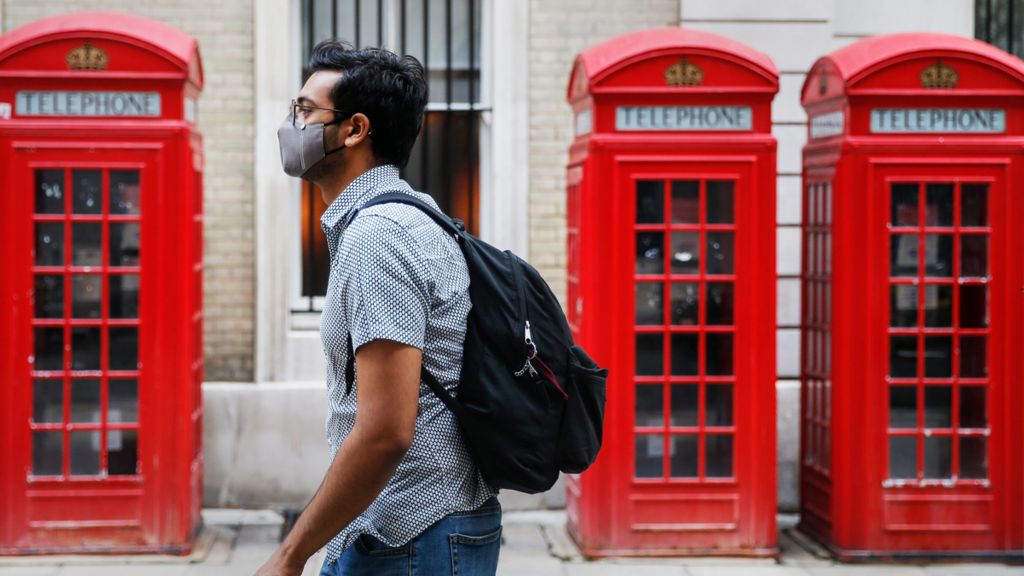 Big changes to Covid restrictions have been made across the UK.
Northern Ireland is the latest to lift some restrictions, but it has delayed a decision on others.
What has now changed in England?
Nightclubs can reopen
Pubs and restaurants no longer table-service only
No limits on guests at weddings and funerals
No limits on people attending concerts, theatres or sports events
No restrictions on communal worship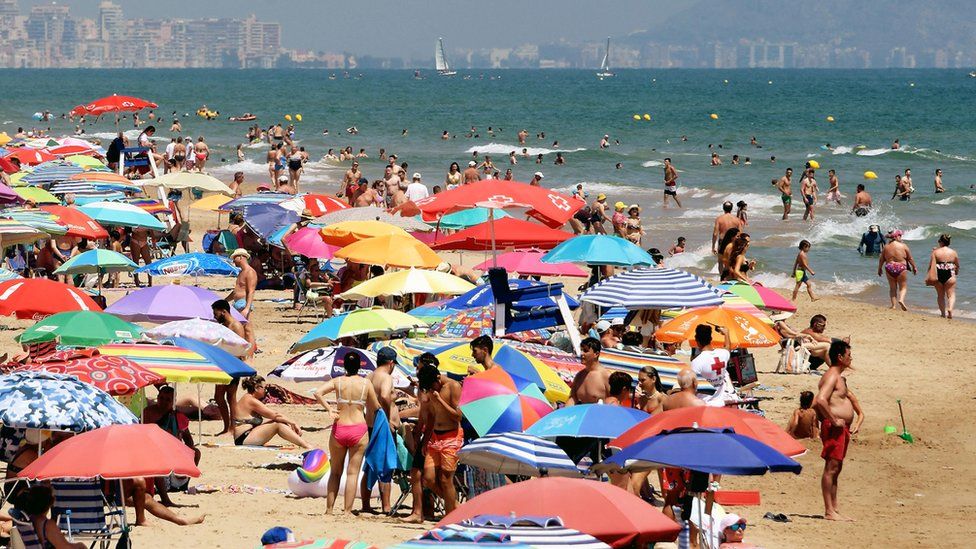 What guidance remains in place in England?
People should continue to meet others outside where possible.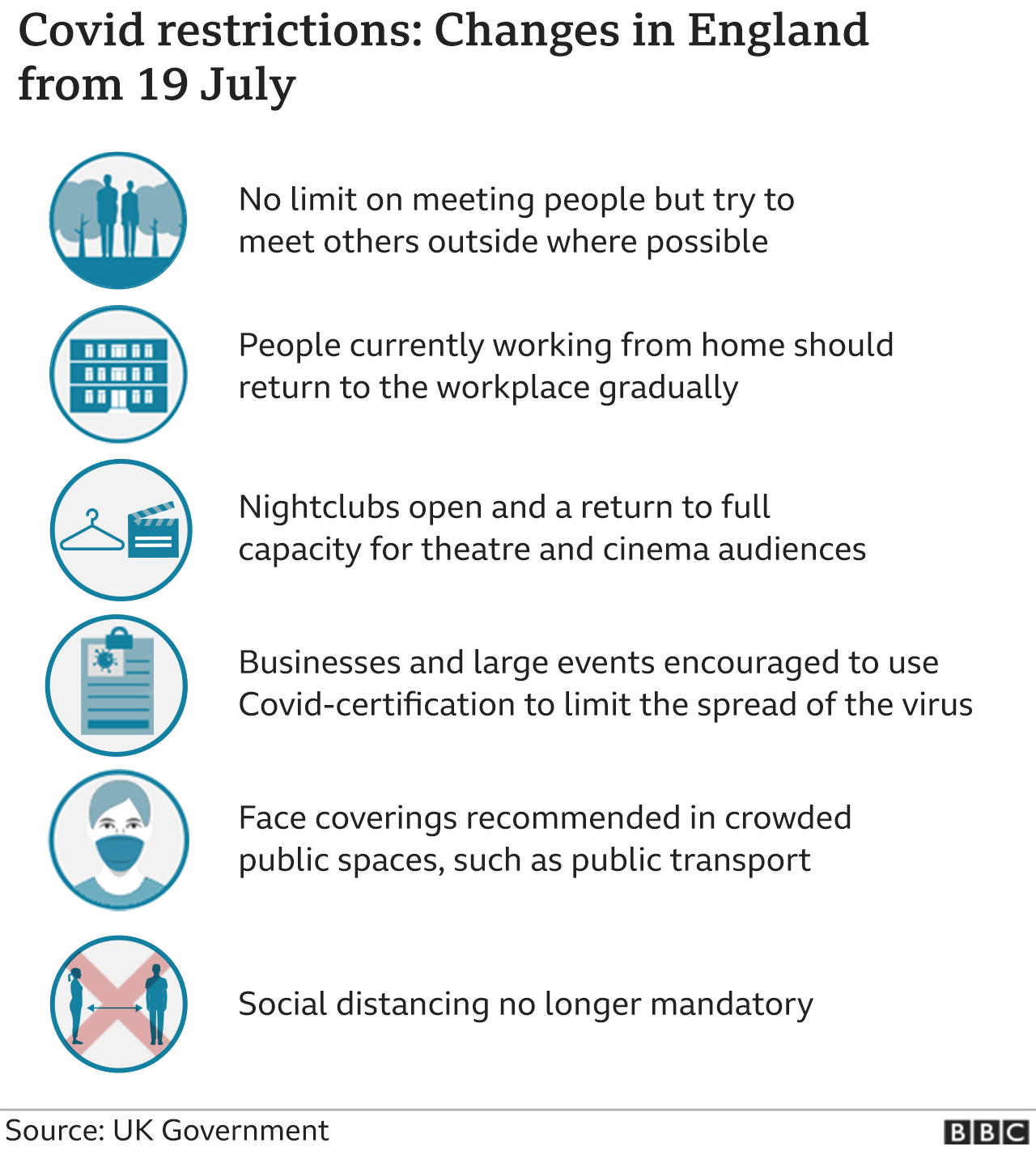 How are the rules changing in Northern Ireland?
Some restrictions have changed since 26 July:
10 people from three households can meet indoors in private dwellings
15 people from unlimited households can meet outdoors
Close contact services can open without pre-booked appointments
Theatres and concert halls can reopen – tickets must be sold in advance and venues must have allocated seating and 1m social distancing
Sound levels are no longer restricted at indoor or outdoor venues, although dancing is not allowed
MoT test centres can reopen
The Northern Ireland Executive will discuss more changes on 12 August.
How have rules changed in Scotland?
Up to eight people from up to four households can meet indoors at home
Up to 10 people from up to four households can meet in a public indoor space
Up to 15 people from up to 15 households can meet outdoors – whether in a private garden or public place (children aged 12 and under not counted)
Up to 200 people can attend weddings and funerals
Two-hour slots to go to a pub or restaurant end, but customers to provide contact details and wear face coverings when not seated
Soft play centres can open
Capacity at events rises to 2,000 seated outdoors, 1,000 standing and 400 indoors
People fully-vaccinated in the UK -and under-18s travelling with them – no longer have to quarantine after visiting an amber-list country
Guidance is expected on allowing fully vaccinated people to avoid self-isolation after close contact with positive cases.
The government is also considering removing the self-isolation requirement for school pupils.
What rules and guidance remain in Scotland?
Masks compulsory on public transport and in shops "for some time"
Hospitality venues to close at midnight
Nightclubs and adult entertainment closed
In indoor public places, social distancing changes from 2m (6ft) to 1m including between different household groups
Outdoor group gatherings limited to 15 people from up to 15 households – no social distancing required within the group, but 1m required between different groups
People should carry on working from home
The government hopes to lift most remaining restrictions on 9 August.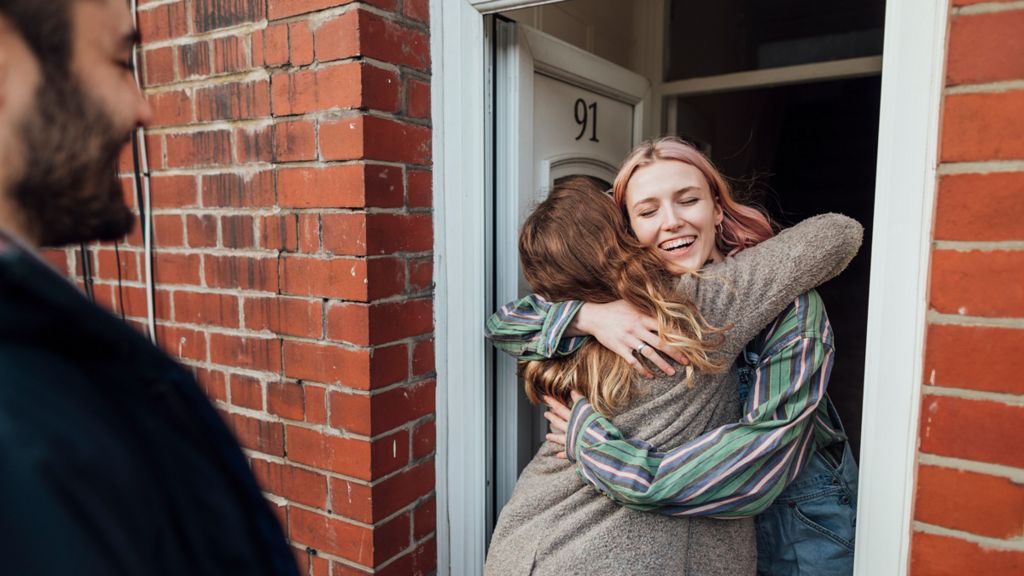 How are the rules changing in Wales?
Up to six people can meet indoors in private homes and holiday accommodation
Organised indoor events can take place for up to 1,000 seated and up to 200 standing
Ice rinks can reopen
No limits on how many people can meet outdoors in public places, or at events
The six-person limit does not apply if everyone is from the same or extended household.
Adults returning from amber-list countries also no longer have to quarantine if they have been fully vaccinated in the UK, and nor do under-18s travelling with them.
The government hopes to move to Alert Level 0 on 7 August. This would mean:
All premises can open, including nightclubs, with most restrictions replaced by risk assessments
No legal limits on the number of people who can meet indoors, including private homes
Face coverings will continue to be required in most indoor public places and on public transport for the present time.
What about areas of England with high numbers of Indian/Delta variant cases?
The government says if you live in one of these areas you should read local Covid-19 information and advice.
Most areas remind residents to follow hands, face and space rules:
washing hands regularly with soap and water for 20 seconds, and use sanitiser
wear a face covering in busy places
meet friends and family outside
keep 2m (6ft) apart from people you don't live with